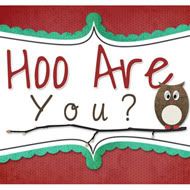 1. Are you married/in a relationship/single? For how long?
I have been married now for 30 years, 31 on June 6th.
2. What do you do for a living? Do you enjoy it?
First and foremost, I am a stay-at-home mom. Secondly, I am a work-at-home medical transcriptionist working part-time. Thirdly, I own a small Etsy shop and spend lots of time creating for that. I enjoy all three very much.
3. In what state do you live? Where were you born and raised?
We currently live in Arizona. I was born in Salt Lake City, Utah but have lived in 3 states prior to this last move here.
4. Do you have children? If so, how many? If not, do you want them?
I have 6 children including 3 daughter-in-laws, 1 soon-to-be son-in-law and 1 grandson with another grandbaby on the way.
5. Who is your favorite blogger to follow and why?
I love
stuph-from-steph
but I follow so many others. Her's is my favorite one just because it reflects a creative life with a really wonderful peek into her family

.