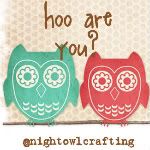 1.
Do you ever burp out loud in private or public
?
Not really, at least when I can help it.
2.
How often do you get sick each year
?
I'm pretty lucky...I usually only get a cold a couple of times a year. I can't remember the last time I was really sick. Knock on wood.
3.
Would you rather paint a room in your house yourself, or have someone else do it for you?
Both, depending on the painting project. I really like to have a group and work together.
4.
If you get 30 minutes to yourself, what do you do?
Right now, sew. I'm preparing for a boutique, so that's eating up most of my time.
5.
Do you allow people to wear shoes in your house?
Yes. If I could do it all over again, no I wouldn't.
Hoo are you?
Sew

Happy,